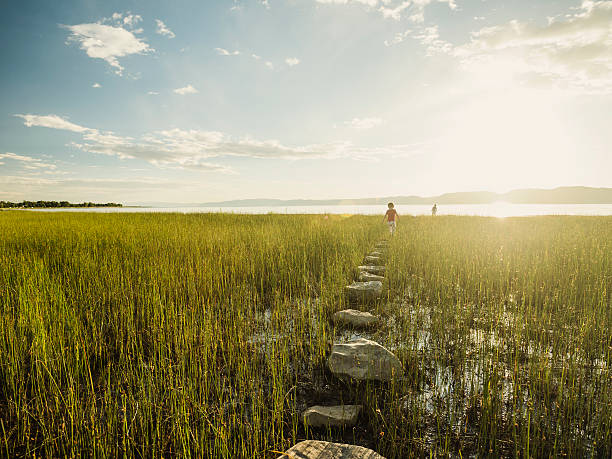 No, in all these things we are more than conquerors through him who loved us.
Romans 8:37
The greatest truths don't always feel true. Sometimes "more than conquerors" don't even feel like conquerors.
Sometimes "super-conquerors" feel like losers.
More Than Meets The Eye
In fact, the "more than conquerors" are described one verse earlier as slaughtered sheep, who face death all the day long.
And back-to-back, just like that, slaughtered sheep are more than conquerors.
But that shouldn't come as a shock to students of the Word. The Bible's full of that sort of upside down kingdom talk. Because the earth is full of things are not what they seem.
It's full of firsts who are lasts and lasts who are first and greats who are servants of all.  Full of weak who are strong and poor who are rich and mourners who get up and dance. Of persecuted who bless and wounded who pray and hurt ones who overcome evil with good. Of the hard pressed but not crushed and the fighters for rest and of the sorrowful yet always rejoicing.
The heroes are the saints who, like Mary and Joseph, and Joseph and Moses and maybe you and me- who choose what they did not choose.
Reality for these is far more than what meets the eye. These set their sights on things unseen and are never too old to see.
These are more than conquerors, in all these things.
Not In Spite Of, But Because Of
All means all. In all these things. For me, all these things means decades of longings unfulfilled and repenting of the same things and years peppered with rough scrambled days. In all these things.
What are your all these things?
Whatever they are, they can be your launching pad to spiritual growth. Because of that little preposition in. 
In all these things, we are more than conquerors through him. Not despite them, but because of them.
Do you remember the Old Testament Abigail? Abigail was "discerning and beautiful, but the her husband Nabal was harsh and badly behaved," (1 Sam. 25:3).
In her study on Abigail, Nancy DeMoss Wolgumuth posed two questions that pulsate:
What if she was beautiful and discerning not in spite of the harsh and ill-behaved man she had been married to but because of her relationship with him? Was it her difficult circumstances that made her seek to know God and to become God's woman?
Leading questions, those. No, Paul wrote, in all these things we are more than conquerors through him who loved us.
In all these things. Not in spite of them. In all these things. 
Not Somehow, But Victoriously
We've all heard it and most of us have said it:  I'll get through somehow.
But come now. These aren't the words of a super-conqueror, are they? Somehow it'll all turn out.
Somehow?
And we who are in Christ are. We are super-conquerors. Not will be- are.
The word in Greek that is translated "more than conquerors" in Romans 8:37 is only used once in the whole Bible. It's one compound Greek word that takes two- super conquerors– or three of ours- more than conquerors– to express.
Albert Barnes explains how it is we gain victory in all these things.
That is, they have not power to subdue us; to alienate our love and confidence; to make us lose our faith. We are the victors, not they. Our faith is not destroyed, our love is not diminished, our hope is not blasted.

But it is not simple victory; … it is more than simple triumph; it augments our faith, increases our strength, expands our love to Christ.
In other words, our sufferings become stepping stones on the path to glory when we score off them. When, instead of shipwrecking our faith, they cause our faith and love to grow.
Not somehow, but victoriously. In all these things.
But Not Without A Fight
In, "The Law of Antagonism," Oswald Chambers explains that super-conqueror status doesn't come without a fight.
Life without war is impossible either in nature or in grace. The basis of physical, mental, moral, and spiritual life is antagonism. This is the open fact of life.

Health…is maintained only by sufficient vitality on the inside against things on the outside…Things which keep me going when I am alive, disintegrate me when I am dead. If I have enough fighting power, I produce the balance of health.

The same is true of the mental life. If I want to maintain a vigorous mental life, I have to fight, and in that way the mental balance called thought is produced. Morally it is the same… No man is virtuous because he cannot help it; virtue is acquired.

And spiritually it is the same. Jesus said — "In the world ye shall have tribulation," i.e., everything that is not spiritual makes for my undoing, but — "be of good cheer, I have overcome the world."

I have to learn to score off the things that come against me, and in that way produce the balance of holiness; then it becomes a delight to meet opposition.
We learn to cling to him and run the race score of things that come against us. We overcome.
And, in all these things we are super-conquerors through him who loved us.
What Super-Conquerors Know
Super-conquerors don't just triumph over evil things. We win by trampling- spiritually- on the things that would destroy us.
We score off suffering and sickness and mistreatment and conflict and injury and hardship and loss.
I love how John Piper explains what it is to be a super conquerer.
If you're a conqueror, your enemies are dead at your feet. And if you're more than a conquerer, your enemies get up…and serve you. The point is God doesn't just protect you from all these adversaries, he makes them serve you, which is another way of saying Romans 8:28. The devil's efforts are turned to work for our good.
This is the super conquerors' secret: all these things are stepping stones to glory. What the enemy intends for evil, God turns for our good.
We look the worst straight in the eye and fight the faithless sin that would threaten to undo us and, through Christ, we fight for faith and strive to love and so we win the victory.
Through him who loved us. 
Stepping Stones To Glory
Christ was perfected through suffering and so will we be. Super conquerors use the same wounds that could be victim-makers and faith-takers and walk over them- as stepping stones- on the path to glory.
So we rejoice in our sufferings, Paul wrote, because we know that through Christ, these things serve us. They are precisely the means God ordains to grow us up and strengthen our faith.
Because these things-all these hard things– serve us. They pave the way to glory.
But thanks be to God who gives us the victory through our Lord Jesus Christ!
1 Corinthians 15:57