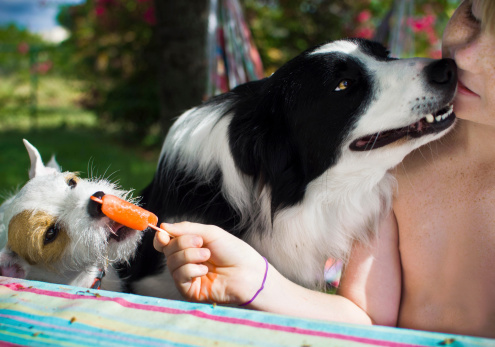 Two dogs are fighting inside you. It's a battle for your mind and the dog you feed the most wins.
For I delight in the law of God, in my inner being, but I see in my members another law waging war against the law of my mind and making me captive to the law of sin that dwells in my members. Romans 7: 22-23
Do not be conformed to this world, but be transformed by the renewal of your mind.  Romans 12:2a
Thursday afternoon was to be all mine. Translated: Four hours of uninterrupted, precious writing time. A very, very rare gift it was, to have nothing at all in the schedule from one to five.
Not. One. Thing. 
You know where this is going. I'll go there soon.
But first, I was witness to a miracle yesterday. I know it was a miracle because what happened was surprising and welcome and not explicable by natural laws and thus considered the work of a divine agency. Check, check, check and check- surprising, welcome, not explained by natural laws.
And most definitely what happened was a work of God.
Yesterday, I got my mind to mind.
Yup. That's it.
What I mean is in this. Usually, when little storms like yesterday's blow through, and change my plans, I recoil. My thoughts stray from the trust in God place they should stay. The place where my lips say to God, You are good and do good always, as the storm clouds roll.
The place where I say that and I mean that and that keeps me from going astray and grumbling. The place where I live in light of the truth of God's goodness. And obey.
It's the place where the war wages and I take thoughts captive as the come and my mind minds.
Taken Captive Or Taking Captive?
We demolish arguments and every pretension that sets itself up against the knowledge of God and we take captive every thought to make it obedient to Christ. 
2 Corinthians 10:5
Often when my schedule is stymied and my plans gets nixed my mind doesn't mind. 
I'm taken captive and don't live in light of the truth that as God's chosen child, He will work all things, including unavoidable little interruptions and surprise storms, for good. I'm taken captive instead of taking thoughts captive to make them obedient to Christ.
But something different happened yesterday. I took some thoughts captives and made them obey. I made my mind mind and really believed that the thunderclouds that ended a tennis lesson too fast for my taste were indeed a good thing.
The stronghold torn down was the one that holds me fast, a lot. That I am the master of my agenda, my desires, my time. That kind of mind must be renewed.
Here's what I mean.
It started with storm clouds, when the sun went hiding and these beauties blew through. Some thunder, too, cut Son One's tennis lesson short.
And that little change, caused by the billowy-clouds of one fast-moving front, meant an errand got delayed and another one got added and the day got off-kilter and before I knew it, my precious, all-mine afternoon was almost gone.
Which still does not explain the miracle. That's coming.
But to see the miracle, you must know this one thing. G.K. Chesterton wrote, and I like to quote, A dead thing can go with the stream, but only a living thing can go against it. I'm not naturally a "go with the flow," kinda girl.
Go With What Flow?
If we live by the Spirit, let us keep in step with the Spirit. 
Galatians 5:25
That trait is both for better and worse.
And worse shows up when storms blow in and upset my plans and I learn once again, I'm not really in control. That the whole control thing is an illusion, at least when it comes to events and people. My mind knows.
My MO is to fight storms with storms. Short, harsh words to my kids thunder. Or resentful cool fronts push against whoever it was that thwarted my plans. That's the ugly underside of fighting the current- the woe in not going with the flow.
But for the better part of yesterday afternoon, I did. I went with the flow. When the storm changed my plans, I kept in step with the Spirit. As I did, I was able to test and approve what was good and choose what was better: time shopping with my guys, buying them new tennis shoes, and an unplanned visit with an old friend and, well, before I knew it, it was ten to four.
My mind was renewed by the Spirit. It did mind God's truth. It obeyed. With each passing hour, each added errand, each little unexpected visit, I was not overwhelmed. I held my peace and didn't begrudge the delays. My mind minded. And that was nothing short of a miracle. 

Or maybe it was just the best-fed, strongest dog winning the fight.


Freedom To Mind
Live as people who are free, not using your freedom as a cover-up for evil, but living as servants of God. 
1 Peter 2:16
There are plenty of versions of the two dogs story, there's at least a Cherokee version and this northern version. Billy Graham used this version in his book, "The Holy Spirit: Activating God's Power In Your Life," 
An Eskimo fisherman came to town every Saturday afternoon. He always brought his two dogs with him. One was white and the other was black. He had taught them to fight on command. Every Saturday afternoon in the town square the people would gather and these two dogs would fight and the fisherman would take bets. On one Saturday, the black dog would win; another Saturday the white dog would win- but the fisherman always won! His friends began to ask him how he did it. He said, "I starve one and feed the other. The one I feed always wins because he is always stronger."
So the ticket to getting the mind to mind is feeding the right dog. Making that dog strong.
But when our minds don't mind, when we don't keep in step with the Spirit, when we fuss and grumble against the God-ordained changes in our plans, when- my time is blown away by God's storm and we rage on, we're not free. We're feeding the wrong dog and he's winning the fights. But that need not be.
We Christians alone can be truly free. It is for freedom that Christ has set us free. We can feed the good dog and make it strong. We can wage the war and win.
Our minds can mind. Here's how.
Feed The Right Dog
Finally, brothers, whatever is true, whatever is honorable, whatever is just, whatever is pure, whatever is lovely, whatever is commendable, if there is any excellence, if there is anything worthy of praise, think about these things. 
Philippians 4:8
This kind of freedom means we can do what we want to do and what we want to do is what we ought to do.  As John Piper puts it, Transformation is doing what you ought to do and loving to do it.
I recently read an article by Philip Holmes, enticingly titled, How to Have a Happy Life. It's on point. We do have a lot of say in getting our minds to mind. We can set ourselves up to have a good day. There are steps we can take to make our minds mind.
Since our brains are only able to process parts of reality at any one time, it's impossible to focus on everything going on around us. Our brains filter information out all the time. Because of that, all of us are experiencing "a very subjective, incomplete version of reality."
[O]ur brains consciously notice whatever is at the forefront of our minds. So if someone is in a bad mood (say you spill coffee on yourself), the brain will recognize that you're in a bad mood and will begin to shape your perception of everything else in a way that confirms the world is a terrible place. The same goes the other way. If you put yourself in a positive mood, you'll start to see the world in a more positive light. Another term for this is "confirmation bias" or "selective attention."
As another example, she points out that if we're meeting with someone we believe is a jerk, we're more likely to notice things about them that confirm our judgment. We end up missing qualities that may paint this person in a more positive light. But if we go in aware of our assumptions, we set ourselves up to see and appreciate the good qualities in this person, instead of only noticing the negative. 
This all means that, by understanding "the rules," and provided Spirit power, we are able to shift how we perceive events around us. Storm clouds and all.
Holmes cites a little Jeremiah Burrough's book called, Contentment, Prosperity, and God's Glory. His wisdom is 400 years-old, but it's timeless. He advises us to have these same "good thoughts of God and his dealings with us." Training ourselves to think like this will definitely help our minds mind.
Have good thoughts of God and make good interpretations of his dealings toward you. It is very hard to live comfortably and cheerfully among friends when one makes harsh interpretations of the words and actions of another. The only way to keep sweet contentment and comfort in Christian societies is to make the best interpretations of things we can. Likewise, a primary way to help keep comfort and contentment in our hearts is to make good interpretations of God's dealings with us. 
This doesn't mean we won't have hard days, that there won't be storms that upset our plans. Storms will come. But it does mean, and I quote Holmes again,
If we embrace that reality that the sovereign God who controls the universe knows us by name and loves us as children and heirs, everything that happens to us will be filtered through these promises. We will begin to see everything, even the hard things, as ultimately good things. 
This miracle of the mind doesn't just happen though. We must act the miracle. Jesus works the miracle. He told the paralyzed man to walk. But that man obeyed. He got up. He acted the miracle.
When the storms come we get up, we talk back to the sinful grumbling mind. We tell ourselves to stop grumbling and get up and walk. The Spirit of Jesus us gives the command-to trust, to believe it really all is good- and we act that miracle.
Miracle, or Best Fed Dog?
But put on the Lord Jesus Christ, and make no provision for the flesh, to gratify its desires. 
Romans 13:14

Much ado about a little storm and your upset plans one afternoon, you mumble. Granted.
Sort of.
Because in a way, what happened Thursday was just a little overflow of the Spirit at work inside, bringing God's truth to mind. It doesn't make for a miracle. I mean, I've been memorizing Ephesians 5 for a month now. So in a way my go with the flow was just proof that if you starve the "my-time, flesh dog" and feed the good, renewed-mind dog, the stronger dog will win.
True enough. The fisherman won every bet. Nothing supernatural here.
Or is there?
Because really, the "best fed dog wins" answer just kicks the miracle question down the road. It really just begs another. Maybe the greater miracle than a mind that minds is that anyone at all would have eyes to see God's glory and freely want to do his will?
Maybe the greater miracle is that anyone of us would choose to feed the calm, meek dog that's forever at odds with selfish, my-time me?
Maybe the greater miracle is that God would give any of us eyes to see the light of the Gospel of the glory of Christ, who is the image of God. That He would shine that light through the our little storms so that we'd even want to feed the good dog. And that, if we did, Christ would give us his mind.
I- swim-upstream, fight-storm-with-storm, Type-A agenda-maker and plan-pusher- for one, think it is.
To set the mind on the flesh is death, but to set the mind on the Spirit is life and peace.
Romans 8:6
"For who has understood the mind of the Lord so as to instruct him?"
But we have the mind of Christ.
1 Corinthians 2:16